Posted by Living Christian Books Team on 16th Sep 2016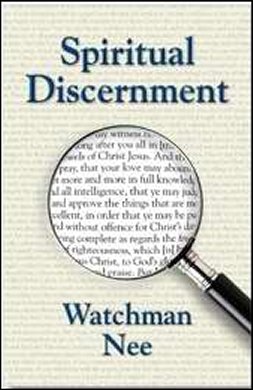 Every born-again believer is called to spiritually discern the people and situations in his life. "But the natural man does not receive the things of the Spirit of God, for they are foolishness to him; nor can he know them, because they are spiritually discerned. But he who is spiritual judges all things, yet he himself is rightly judged by no one" (1 Cor. 2:14-15). With the growing tumult in the world today, this is one call that no believer can afford to ignore.
Without Spiritual Discernment, We Will Be Deceived
Watchman Nee understood the need for discernment as few do. His book, Spiritual Discernment, dispenses wisdom and guidance in his usual clear and anointed fashion.
"The Lord has given us a spirit. It is not just for life but also for a new function. For the spirit bears not just God's nature but His sensing ability too. The spirit is for work as well as for life. It is God's will that we exercise our spirit. He has to start breaking your strongest point. If emotion is the strongest, it tends to compromise the spirit. A self-righteous person is prone to consider his opinion as the intent of the spirit. What is detrimental to the spirit is a lack in dealing with the outward man. Such lack causes the spirit to be undependable. The church today is in lack of people whose spirit is pure. A pure spirit is able to discern and give the right judgment, and it also releases power. The Lord searches for such people whose spirit is pure and deep."
Nee was well-acquainted with the obstacles to true discernment. His warnings in Spiritual Discernment are specific and universal at the same time.
"The spirit alone can discern. The outward man must be quieted. The spirit needs to be kept fresh, living, tranquil, alert and free from outward influence. If there be any preconceived idea, it will immediately affect the judgment of the spirit. It is far easier to have a wrong spirit than engage in a wrong action. Should my spirit be impatient and irritated, its judgment will be impaired and become inaccurate. It is therefore necessary for the spirit to be tender, quiet, dependable and trustworthy. A slight self-righteousness will temper its usefulness."
A spirit that discerns between truth and falsehood, reality and delusion, and light and dark will be so needed in the darkness of the last days. How many churches have fallen to the wiles of false prophets? How many believers have been fooled by wolves in sheep's clothing? If you haven't already, it's time to heed the call to learn how to spiritually discern!